Washington Nationals: Delay Changes Little In NLDS; Still Must Win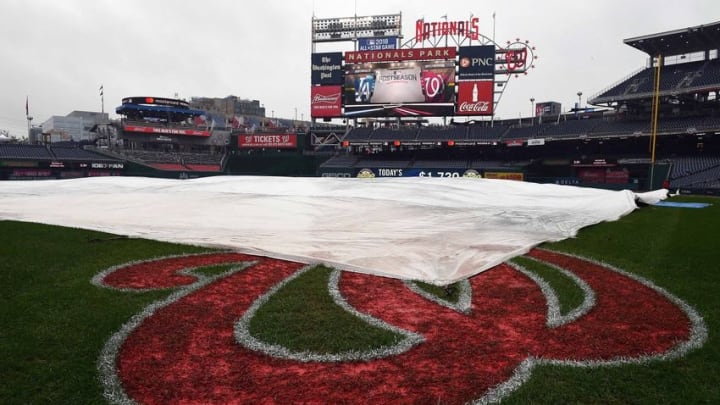 Oct 8, 2016; Washington, DC, USA; The tarp covers the infield before game two of the 2016 NLDS playoff baseball game between the Washington Nationals and the Los Angeles Dodgers at Nationals Park. Mandatory Credit: Brad Mills-USA TODAY Sports /
With Saturday's washout between the Washington Nationals and Los Angeles Dodgers, how will the delay effect the NLDS?
Now that the Washington Nationals and Los Angeles Dodgers have rested an extra day between Games 1 and 2 of their National League Divisional Series, what changes? Who did the rainout help?
On the surface, the Dodgers used more of their bullpen Friday afternoon. With Clayton Kershaw able to hurl only five innings, his teammates needed to get 12 outs to lock down the win. Closer Kenley Jansen tossed a five-out save. Although Jansen and others could have pitched yesterday, they are all on full rest for today. So is the Nats' bullpen.
Sammy Solis and Mark Melancon finished Game 1. Solis tossed two innings as Melancon pitched the ninth. Melancon would have pitched yesterday. Solis can go today if needed. If there is an advantage here, the Dodgers taxed their pen more and Washington can no longer capitalize.
More from District on Deck
The bigger questions come after Game 2.
With the travel day off the schedule now, these teams hope to play three straight games with a cross-country flight thrown in. As we await to see what Gio Gonzalez can cobble together Monday in Los Angeles, and how long Rich Hill can go today, bullpen management and fatigue are real issues.
Both Dusty Baker and Dave Roberts want their starters to go as long as possible. We know tomorrow will be a bullpen game for Washington, unless Gonzalez can muster an October Surprise, and Hill is a fragile pitcher with blister issues. Any team forced to dip in the bullpen early will be in trouble tomorrow.
As far as the hitters go, you can hope the butterflies have left Trea Turner's stomach and Danny Espinosa took extra batting practice in the cage. Since the rain never allowed any outdoor practice, both starting pitchers never loosened and the delay may have caused a fitful night of sleep.
Washington's ability to not hit with runners in scoring position did not change in the wet weather. The Dodgers did not become more nervous with the rain.
Next: Should Harper Hit Second?
Game 1 was well played by both teams. How Game 2 goes will set the stage in motion for the rest of the series. If both Tanner Roark and Hill pitch into the sixth, whatever bullpen usage factors that might pop up in Los Angeles will not be on the delay.