Washington Nationals: Offseason Aggression Needs Checks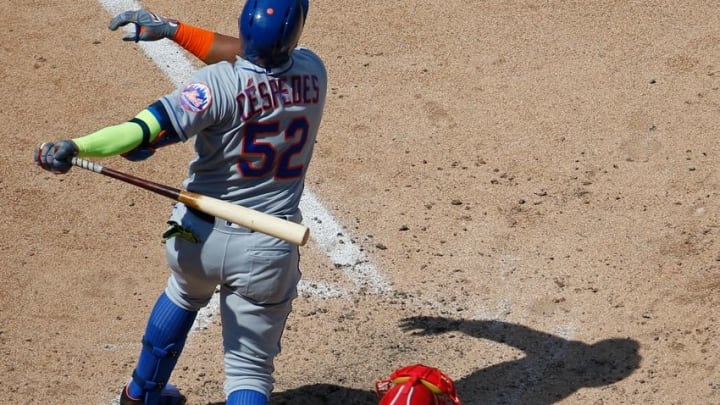 May 25, 2016; Washington, DC, USA; New York Mets center fielder Yoenis Cespedes (52) bats against the Washington Nationals at Nationals Park. Mandatory Credit: Geoff Burke-USA TODAY Sports /
With Major League Baseball's offseason plans uncertain, the Washington Nationals need to be cautious when the hot stove reaches a full boil.
The Washington Nationals offseason may go better if they pay attention to the advice of an old sage.
""When you hurry you're more apt to make mistakes. But you have to be quick. If you're not quick you can't get things done.""
The advice of John Wooden, the legendary basketball philosopher and head coach at UCLA in their heyday.
More from District on Deck
We have read many pieces on how Mike Rizzo and the Nationals plan to be aggressive this offseason. From landing another quality starting pitcher to a top closer and a centerfielder, they are telling the baseball world what needs they plan to address.
With a possibility of a lockout—and, a slow negotiation on a new collective bargaining agreement—the hot stove league resembles a pot on a slow boil. Some bigger names like Edinson Volquez found new employers, but all the big names remain open. Until the new deal is in place, things will remain slow.
When business picks up, either at the Winter Meetings next week in Washington, or teams start new business later, the Nationals cannot rush into deals. Also, they cannot be too patient in filling a shopping list.
Yep, the paradox of every offseason is quick, but not fast. After how 2016 ended, the pressure from fans to do something is intense. Rizzo and the rest of the front office will ignore that and concentrate on what gets the Nationals to the next stage.
If the new CBA is hammered out this week—the old one expires December 1—it will be business as usual the rest of the offseason. The Nationals are buyers and have around $20 million to spend. They have questions at catcher, closer and centerfield. Only the closer is a role they struggle with in-house.
If the offseason is shortened either with a lockout or no Winter Meetings, here is where things get tricky. Depending on when business starts again, all teams will feel the rush to get rosters and payroll in order. This is a WBC year and camps open earlier to accommodate players.
The new CBA may open a permanent 26th roster spot. We might have complete unrestricted free agency. Although the international draft is likely out, a new luxury tax system changes the formula. If teams rush, they will make mistakes.
Back to the Wooden quote above. There is a difference between hurry and quick. Regardless of when the offseason starts, Rizzo and company cannot settle on moves. Whatever happens, they need to be thought out and executed.
Next: The Case For Santiago Casilla
Some of us are parade planning.