Washington Nationals: Payroll Still An Issue After Arbitration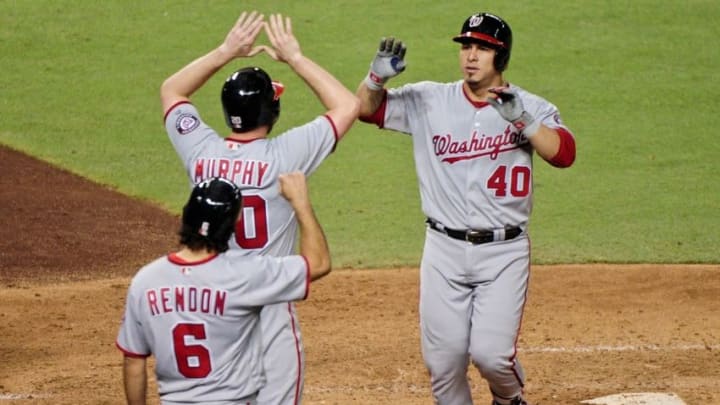 Aug 2, 2016; Phoenix, AZ, USA; Washington Nationals catcher Wilson Ramos (40) celebrates with third baseman Anthony Rendon (6) and second baseman Daniel Murphy (20) after hitting a three run home run in the fifth inning against the Arizona Diamondbacks at Chase Field. Mandatory Credit: Matt Kartozian-USA TODAY Sports /
How much flexibility the Washington Nationals remains after arbitration remains a mystery. What is the budget now? We take a closer look.
The Washington Nationals will head to West Palm Beach with an estimated payroll between $144.4 and $151 million, we think.
You see, the whole thing is rather complicated. Cots Baseball Contracts, considered the definitive authority on these issues, added the $27 million awarded in the contracts to Bryce Harper, Anthony Rendon, Tanner Roark and Derek Norris last week. They now post the salary obligation at $144,462,619.
Baseball Reference has the projection at $151 million with those contracts in place. Whatever the true figure is, they still have money to play with. Grab Matt Wieters at a deep discount or Greg Holland if he backs off his demand for an opt-out after one year.
More from District on Deck
Cots says the Nats finished last season with $170 million. Based on comments by general Manager Mike Rizzo that number is right around the ceiling of where payroll can be.
No, it has nothing to do with the Competitive Balance Tax, what we now call the luxury tax in the new collective bargaining agreement. Unless the team plans to lose money, there is no way the Nationals sniff this season's $195 million mark.
Instead, the $170 million figure comes from money received from television partner MASN, national television deals and ballpark revenue. If Washington sells more tickets—roughly a million remained unsold last year—and sell a few more hot dogs, then the overall number can increase.
Because the Nationals are junior partners with the Baltimore Orioles with MASN, they do not get an even split of the money. In the long run, it hurts the club, but that was the deal negotiated with Baltimore when the Expos moved to DC from Montreal. Unless the Commissioner's Office on Park Avenue wants to deal with it, nothing will change.
Where does this leave the Nats heading into the season?
Although the more conservative number says they have around $19 million left in the budget, the real number is closer to $15 million. Washington saved money over the MLB Trade Rumors arbitration estimates in Roark and Redon's contract, but rewarded Harper with $4.3 million more than expected.
With injuries, unexpected signings and whatever they may do during the season, the final number should creep toward the magic $170 million number again. As they carry the highest payroll in the National League East to begin with, do not expect Washington to go much higher.
Next: Which Catcher Starts Most?
With money already deferred in several contracts, the Nats can spend so much without hurting themselves long term.