Washington Nationals: 2017 Spring Training Radio/TV Log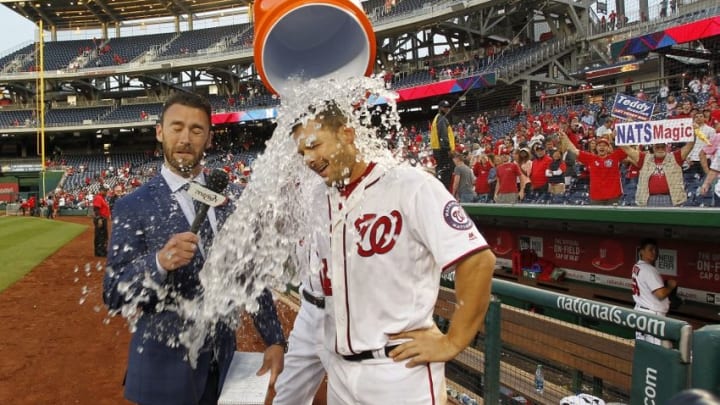 Apr 24, 2016; Washington, DC, USA; Washington Nationals center fielder Chris Heisey (14) gets a bucket of ice water dumped on him by Nationals third baseman Anthony Rendon (6) while being interviewed by MASN reporter Dan Kolko (L) after hitting a walk-off home run against the Minnesota Twins in the sixteenth inning at Nationals Park. The National won 5-4 in sixteen innings. Mandatory Credit: Geoff Burke-USA TODAY Sports /
Here is where you can find the Washington Nationals on cable and the radio for the 2017 Grapefruit League. A busy campaign lies ahead.
In a sure sign that the long winter is slowly coming to an end, MASN—the television home of the Washington Nationals—announced their broadcast schedule for the 2017 Grapefruit League season.
With Bob Carpenter and F.P. Santangelo returning on new multi-year contracts, the veteran crew is ready to bring another season of Nats baseball to you. MASN will televise seven games this spring. Six from Florida and one from Nationals Park against the Boston Red Sox on March 31. Carp and F.P. are joined on the sidelines by Jayson Werth's best friend Dan Kolko.
More from District on Deck
ESPN will carry the April 1 game against the Red Sox at the United States Naval Academy. This exciting new chapter in Nats history is the first of a three-year deal with the Navy to bring a game strictly for the Midshipmen and staff.
The Fan, WJFK-FM, and the rest of the Washington Nationals Radio Network have yet to announce their schedule this spring, but we know Charlie Slowes and Dave Jageler are behind the microphones again.
All games on the MASN card are at West Palm Beach at the beautiful brand-spanking new The Ballpark of the Palm Beaches. (Rolls off the keyboard as easily as off the tongue.)
Sharing the facility with the Houston Astros, two of their games will air on MASN. Other teams featured in Florida are the Red Sox, New York Yankees and Mets and the Miami Marlins.
MLB Network will have other games announced later—usually on a delay—and out-of-market fans can take in a few on the MLB.tv package.
If you are near West Palm Beach, take in a game. The minor-league complex is usually free to enter and you can see the future Nationals play their pre-season games.
Next: Where Does Harper Rank In NL East At RF?
Here is the full television and radio Grapefruit League schedule:
–Feb. 28 Opening Day versus Houston (MASN Live at 1, replays at 7 and 11:30)
–March 7 versus Boston (MASN Live at 1, prime-time replay)
–March 12 versus Houston (MASN Live at 1, prime-time replay)
–March 20 versus the New York Yankees (MASN Live at 1, prime-time replay)
–March 23 versus the New York Mets (MASN Live at 1, prime-time replay)
–March 28 versus Miami (MASN Live at 6:30 PM)
–March 31 versus Boston at Nationals Park (MASN 4 PM)
–April 1 versus Boston at Max Bishop Stadium at USNA Annapolis (ESPN 2 PM)