Washington Nationals: Our conversation with Erick Fedde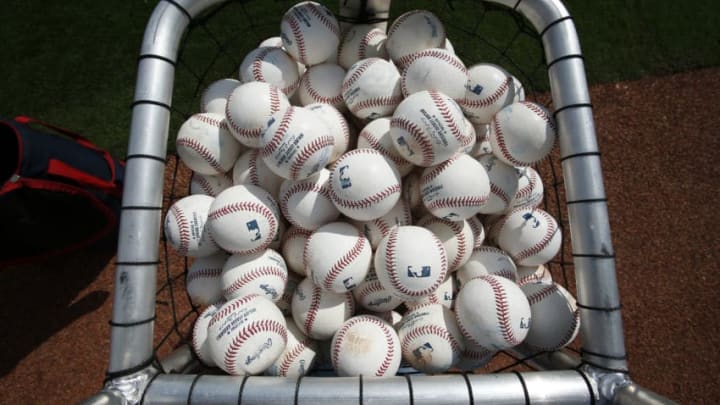 (Photo by Joel Auerbach/Getty Images) /
Last week, I spoke with Washington Nationals top pitching prospect Erick Fedde about his transition back to being a starter
As the Washington Nationals Triple-A affiliate heads into their All-Star break, one of the players that is getting the most attention at Syracuse is right-handed pitcher Erick Fedde. After being in the Chiefs bullpen when he was promoted from Double-A Harrisburg on June 13, Fedde is back to being a starter.
On Saturday night, the 24-year-old right-hander had a good start against Rochester as he begins to increase his pitch count. He went three hitless innings and struck out four batters on 37 pitches (25 strikes). It had to be a confidence boost for Fedde after he didn't record an out in the start prior against Buffalo.
Three days after that start against Buffalo, I got the chance to talk to Fedde about his thought process after a bad start. Does he go back and watch the tape or does he simply move on to the next outing? Here is what he said:
""A situation like that one, that's one I want to put in the past and leave it there. If things continue to go back after 3-4 starters, then you look at film. It's just one where things didn't go as planned.""
More from District on Deck
Back in 2014, the Washington Nationals drafted Fedde with the 18th pick out of UNLV. After two seasons, he was in Major League spring training last March with pitchers such as Max Scherzer and Stephen Strasburg.
""He's something special," said Fedde about Scherzer. "When he's on the mound, you can tell he's going to attack hitters and fears no one. He's just a fun guy to watch and everything he does would be something you want to learn from.""
Fedde began the season in the Harrisburg rotation and had a 3.16 ERA over his first seven starts. Then, the Nats made the decision to put Fedde in the bullpen for this season. During my conversation with him, one of my questions was about how tough it was for him to adjust to the bullpen:
""It was the ability to get hot at any moment," replied Fedde. "I had been used to having my whole pregame routine. The biggest thing was if the game out of nowhere took a turn, I had to be hot. That was the toughest adjustment for me.""
As for who were the people that helped him with the adjustment, Fedde mentioned that a friend from back home, Buddy Borden, had done the adjustment with the Pittsburgh Pirates. Plus, he mentioned how some of the Nats relievers were helping him with preparation.
During the rest of this interview, you will hear Fedde talk about other Syracuse bullpen standouts (Austin Adams and Wander Suero), his draft and spring training experience, and if he feels any pressure about being one of the top prospects.
Next: Robles rising up top prospect lists
We thank Fedde for taking the time to talk with us and we hope you enjoy this interview. Syracuse will be back in action Thursday night (6:35 p.m ET) against the Pawtucket Red Sox.