Washington Nationals: What is the team's 2019 outlook?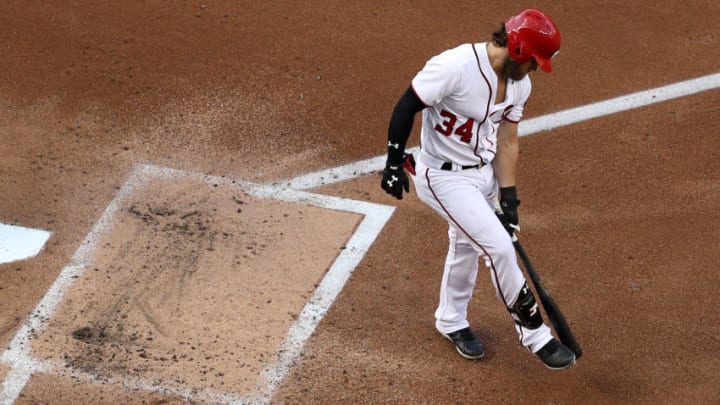 WASHINGTON, DC - JULY 25: Bryce Harper #34 of the Washington Nationals strikes out against the Milwaukee Brewers during the first inning at Nationals Park on July 25, 2017 in Washington, DC. (Photo by Patrick Smith/Getty Images) /
If Bryce Harper doesn't re-sign with the Washington Nationals, what could the team look like in 2019?
Buckle up, because we're already talking 2019. Hey, when another NL East team finds themselves within shouting distance of the Washington Nationals this season, I'll come back to reality.
Truthfully though, planning for 2019 has already begun with the Nats' front office. Several key players are up for free agency after 2018, and even more the following winter. At this time next year, GM Mike Rizzo may have the expiring contracts of Bryce Harper and Daniel Murphy on the trade block.
Harper's pending free agency looms over all other decisions because at age 25, Harper seems like a sure bet to shatter Giancarlo Stanton's record-breaking contract (13 years, $325 million). Unlike Mike Trout, who quickly pounced on a six-year, $144.5 million extension, agent Scott Boras is guaranteed to put Harper on the open market.
The Lerners are yet to signal any interest in spending that much on one player. The Nationals have recently set their payroll between $150 to $170 million, though ownership will splurge on the right player for a contending team. When the Lerners do give Rizzo the green light to spend, it often comes with a bit of trickery: a deferred-money contract.
More from District on Deck
Max Scherzer signed such a deal three years ago, and the Nationals have reportedly offered it to other top free agents (Yoenis Cespedes, Jason Heyward, Ben Zobrist). Harper is about to be subjected to a league-wide bidding war over his services, so he does not need to take a deal with deferred money.
The prediction here is that Harper leaves after 2018. Circumstances could change (such as a World Series ring or a serious injury), but his eagerness to cash in on a monster deal seems like something Washington won't take part in.
The Nationals will make an honest offer – similarly to St. Louis' offer to Albert Pujols in 2011 before he left for Los Angeles – but it won't be enough. The question is: do the Nationals have enough talent to survive without Harper? Let's look at the future free agents first.
Jayson Werth is a free agent after the 2017 season. He can still produce in short bursts at 38 years old, but not over the long haul. This season could be Werth's final ride in the big leagues.
Gio Gonzalez will be back for 2018 assuming he hits his 180 inning-vesting option (he is less than 50 innings away). He will be a free agent the following season and his consistency will certainly have teams calling next offseason. Gonzalez has never been on the open market and he'll presumably want to cash in on one last contract. The price range might get too high for a 33-year-old seeking a multi-year offer.
Daniel Murphy will also hit free agency following the 2018 season, and after outperforming his current contract ten-fold, he deserves to get paid. Murphy will be 34 years old at that point with meh defensive skills, but I think the Nationals will pony up and pay him. Big market teams cannot just let all their top talent walk out the door at once. The Nationals do need to pay someone.
By 2019, I believe Harper, Werth, and Gonzalez will either be in other uniforms or retired. Here is what the Nationals will have left:
| | | | | | | | |
| --- | --- | --- | --- | --- | --- | --- | --- |
| C | 1B | 2B | 3B | SS | LF | CF | RF |
| ? | Zimmerman | Murphy | Rendon | Turner | Robles | Taylor | Eaton |
| | | | | |
| --- | --- | --- | --- | --- |
| SP1 | SP2 | SP3 | SP4 | SP5 |
| Scherzer | Strasburg | Roark | Ross | Fedde |
That's still a quality bunch, even without Harper. Anthony Rendon has transformed into one of the best players in the National League and the Trea Turner–Adam Eaton pairing should be special at the top of the order.
Scherzer and Stephen Strasburg are on the short list for the best one-two punch in baseball, Victor Robles and Erick Fedde are both well-regarded prospects, and Murphy is slashing a ridiculous .344/.391/.590 in nearly 1,000 career plate appearances with the Nationals. That is still a contending team with World Series potential.
Harper's greatness provides insurance for the rest of the team; without him, plenty of pitfalls could railroad Washington as it transitions into its next phase. Rendon has an extensive injury history dating back to his college days. There is no guarantee Joe Ross and Eaton come back at full strength from their various ligament tears. Scherzer and Murphy will both be 34 years old.
Ryan Zimmerman looks like an $18 million bench player in waiting. Fedde and Robles have big bust potential. Strasburg is a linchpin for the next half-decade, but the team can longer count on for more than 25 starts. Mike Rizzo will have an expensive, aging, middling roster on his hands if things break the wrong way.
Of course, the team can still make plenty of upgrades to the 2019 roster. The Nationals needs a new catcher and Rizzo will turn over the entire bullpen. Rizzo always kicks the tires on big name free agents and supplementary trade pieces as well. Plus, the Nats could have a breakout player enter the fray. Maybe the Michael Taylor we saw pre-injury is for real. Robles could be the next great young outfielder. So many variables exist to say anything is for sure.
If you look around the rest of the division, the other teams do not strike fear in your heart. The New York Mets have imploded. Miami is hosting its typical half-decade giveaway sale. The Phillies are the worst team in baseball, without an elite farm system to match. The Braves are the only opponent with a truly exciting future, but the Nationals are still in a different class.
Next: Future protected as Nats push for now
The team has already flipped through several different cycles since moving to Washington: the return (2005-07), the rebuild (2008-10), the emergence (2011-14), and the Harper era (2015-present). With another era looming on the horizon, Rizzo has positioned the Nationals well for a post-Bryce Harper world.