Washington Nationals: Time for six-man rotation this season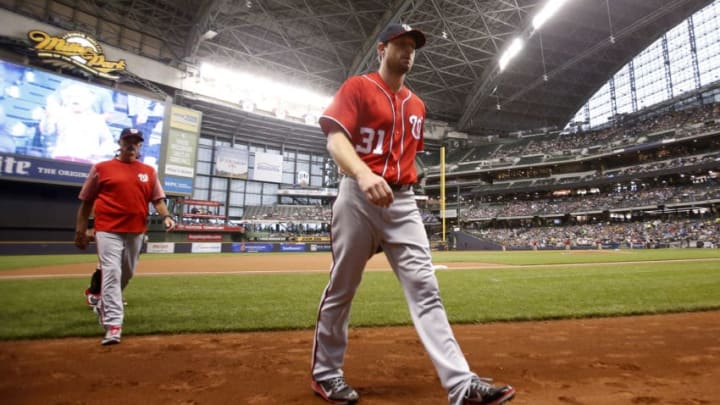 MILWAUKEE, WI - SEPTEMBER 02: Max Scherzer /
With the playoffs almost assured, the Washington Nationals must move to a six-man rotation to keep everyone on schedule and fresh.
It is time for the Washington Nationals to use a six-man pitching rotation the rest of the regular season.
In light of recent scares to Max Scherzer and Gio Gonzalez, having an extra starter—Erick Fedde comes to mind—gives the Nats insurance down the stretch. Once the finish this week with the Miami Marlins, they will not face another team threatening their playoff position.
Manager Dusty Baker rides his starters hard. Night after night, they top 100 pitches and push for seven innings. When the bullpen had a roller coaster first half, you understood the reasons. Since the trades rebuilding the pen, the philosophy still works. Get six full strong innings and let the relievers do their job.
More from District on Deck
If October goes to plan that is the winning formula.
To cut the amount of pitches now while staying on regular rest is tough. After five months of maximum effort, you take chances taking the foot off the throttle. Pitching in the playoffs add pressure and the quality of opposition means more pitches for less outs.
Because of how the Nats approached this year, getting a regular start every sixth day continues what Baker wants to do while scrubbing a total start off everyone's arm. Those precious innings are needed for the championship run. If Washington can save six or seven innings of work for their front four that is added fuel for October's fire.
Although Baker's extensive use of starters has a fair share of critics, the results are there. Scherzer can win a second straight Cy Young. Gonzalez is having the best year of his career. Strasburg should pitch in October and the Nats are headed to the playoffs in consecutive years for the first time. With the injuries, only Strasburg carried arm problems which is nothing new.
Remember, Joe Ross was not a starter heavily used before needing Tommy John surgery.
Pitchers are creatures of habit. Chances are they want no restrictions when taking the mound. Giving an extra day of rest does that.
The Milwaukee Brewers and Chicago Cubs will battle until the last week of the season. Regardless of who survives, they must grind through their pitchers to make the postseason. Washington has no such issue.
The moment the Nats clinch the division, they will have around three weeks to put Scherzer in line for a Game 1 start. If he wants full starts until then let him.