Washington Nationals: Time to be patient with Jayson Werth
While Jayson Werth may be struggling at the plate, the Washington Nationals are showing patience with him and it's the right thing to do
Ever since he came back to the Washington Nationals lineup, Jayson Werth's numbers have been less than stellar to say the least. There have been some who have called for the Nats to bench Werth in October in favor of the veteran Howie Kendrick, but don't give up on Werth just yet.
This month, Werth is 4-for-38 (.105 average) with two RBI's and ten strikeouts. When you stretch that sample size out to the last month, the numbers aren't much better. Over his last 14 games, the 36-year-old outfielder is 6-for-46 (.130) with one home run and six RBI's.
Despite those bad numbers, there is one thing that Werth is doing well and that is taking pitches and working the count against the opposing pitcher. He has seen 4.74 pitches per plate appearance this month and the same amount of pitches over the last 30 days.
Werth is still a good candidate to be at the top of the order despite his slump because of the impact he can have on the rest of the lineup. If the Nats moved up Bryce Harper or Daniel Murphy to the number two spot, it could potentially prevent Trea Turner from using his best tool, his speed.
Another good thing about taking pitches is that it can affect how long a starter stays in the game. As was seen last October, the bullpen is heavily used in the postseason, so any time you can get a starter out of the game in five innings or less, you have a great chance to win that game. That's where Werth's patience at the plate comes into play.
In an October game, you never know when a singular at-bat can decide a game. For example, let's go back to Game 5 of the NLDS last year. In the fourth inning of that game, Justin Turner drew a walk on 13 pitches against Max Scherzer. While Los Angeles didn't score that inning, that at-bat likely had an impact later in the game.
The other argument you could make for benching Werth is that he can get that clutch home run off the bench late in a game. However, Adam Lind fits a similar role and it might be better to have Kendrick on the bench because of his versatility and you could use him in any situation, not just for a home run.
Werth has been bad at the plate recently, but in some of those at-bats, he hits it right at somebody in the outfield, hits it to the track, or gets a bad break. Remember, on Sunday night, if that ball was ruled fair down the left field line, he has a clutch RBI double in the fifth inning during a 1-0 game. Plus, his four walks in September are the fifth most on the team this month.
Right now, Werth is slowly coming back from a shoulder injury and is trying to get his timing back. By seeing more pitches, he should be able to get back on the right track heading into October.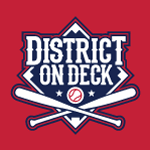 Want your voice heard? Join the District On Deck team!
Write for us!
For a player that has meant a lot to the franchise, don't give up on Werth yet. He may still have one magic moment in that bat this postseason before his contract is up at the end of this year.