Washington Nationals: Max Scherzer's season of transition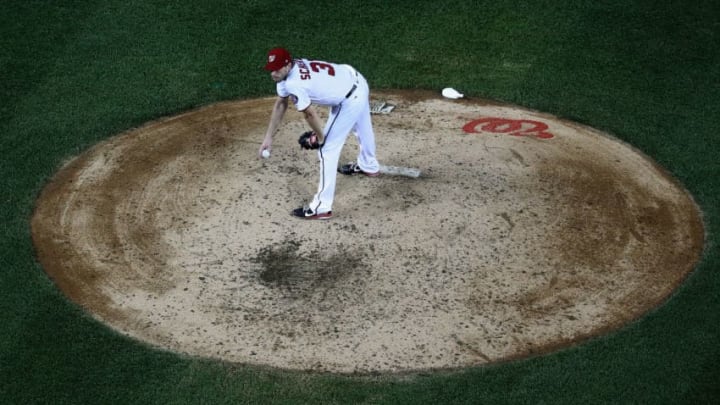 WASHINGTON, DC - SEPTEMBER 13: Max Scherzer /
The Washington Nationals need Max Scherzer to pace himself more over the regular season. He is a major key for a deep October run.
So, how does Washington Nationals legend Max Scherzer follow up consecutive Cy Young Awards?
In his three seasons on the Potomac, Scherzer has given Washington everything he possibly has and more. The numbers are scary. A 50-25 record with a 2.76 ERA and 0.931 WHIP. In 657.2 innings, he struck out 828. That gives him an amazing 11.3 K/9 rate with the Nats.
When you add his incredible control, 145 walks over those same frames, Scherzer blows you away with his 2.0 BB/9 ratio. He is a pitcher who could thread a sewing needle at home plate from the mound.
More from District on Deck
Again, how does the best pitcher outside the National League West approach this year? Ideally, by continuing his transition from a thrower to a pitcher. Yes, answering the question with a critical reply sounds harsh. But, Scherzer showed signs last year of a different pitcher.
Twice last year he took a hard line drive off his legs. Neck trouble cost him a start and change. Those injuries delayed his playoff debut to a Game 3 start against Chicago in the NL Divisional Series. The tape of his Game 5 inning was digitally erased by the FBI and NSA. It did not happen.
Lost in the new injuries was how his right ring-finger healed from the hairline fracture Scherzer suffered back in August 2016. Remember, he pitched eight weeks and two playoff starts with a broken finger. Imagine him back in the 1980s when aces completed half their starts. Dusty Baker would pull the ball out of his cold, dead-arm hands.
Scherzer must focus this year being fresh for the playoffs. If that means a hardish pitch limit of 105, then so be it. With a stronger bullpen out of the gate, along with the emergence of Stephen Strasburg, the bulldog can relax.
From the top down, the Nats are all about October. If they will make a deep run, Scherzer has to make every scheduled playoff start. The arm has a finite amount of throws and the last two years show he is human despite amazing numbers.
Manager Dave Martinez and pitching coach Derek Lilliquist must manage Scherzer's tenacity to fire 120 pitches every fifth day with Washington's goals. If, for unknown reasons, the division turns into an actual race then the mission gets harder. They will need to ride him to make the playoffs.
Next: 5 mid-season trade targets
Scherzer is baseball savvy. He understands his limitations. Expect the usual while he adjusts to conserving his energy for when Washington needs it most.