Washington Nationals: Tips for visiting Marlins Park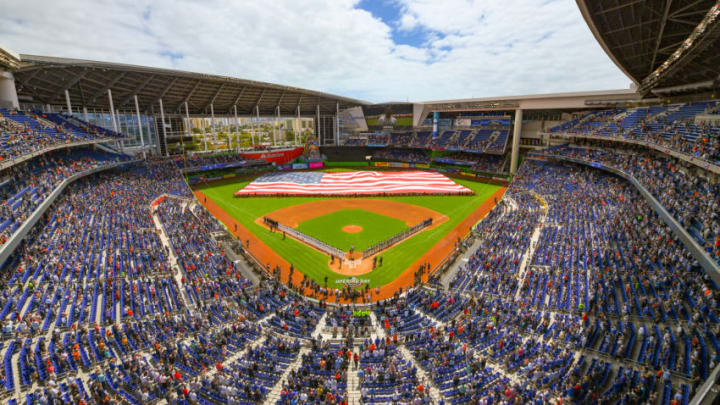 Washington Nationals /
So, who's round is it?
No trip to the ballpark would be complete without a beverage, alcoholic or otherwise. So which are the best spots to grab a drink before or during the game?
Need a drink? Try The Batting Cage
I visited this establishment before and after last year's Home Run Derby and had a great time. Happy Hour at The Batting Cage, located on NW 7th Street, begins at 5 p.m. on Fridays. It's a quick, easy walk from the stadium's main gate.
More from District on Deck
Still thirsty? Saturday is Beerfest
Marlins Park's "Beerfest" starts at 2 p.m. at the club in left-center field, The Clevelander, before Saturday's 4:05 p.m. first pitch. Here is more information.
Speaking of The Clevelander
You can eat, drink, dance and swim – yes, swim – at The Clevelander, which you've probably seen on TV during games. It's definitely an experience unique to Marlins Park, even with overpriced food and drinks.
The Clevelander opens 90 minutes before games and stays open one hour after the last pitch, although the procedure will be different on Saturday due to Beerfest. You must be 21 to enter The Clevelander except on Sundays, when age restrictions are waved, according to the Marlins website.
Hungry? Try a Cuban sandwich.
I had never tried a Cuban sandwich until last year's All-Star Game. They are fantastic! I got mine at "Taste of Miami" in the stadium's left-field corner. All of Marlins Park's solid cuisine options can be found here.
Overall, you should find the atmosphere in Miami to be much more welcoming to Washington Nationals fans than other NL East stadiums. Be sure to keep your eye out for family members of Nats shortstop Trea Turner and center fielder Michael Taylor, both of whom are South Florida natives. You'll often see Trea's grandfather wearing a "Turner's Grandpa" shirt.
Next: Adam Eaton recovering quickly
Enjoy your visit and go Nats!