Washington Nationals 2018 MLB Draft Profile: Tristan Beck
The MLB Draft is one week away, and the Washington Nationals are picking 27th overall. We look at Stanford's Tristan Beck as a potential fit for the Nats.
The MLB Draft is rapidly approaching, and the Washington Nationals will have the 27th overall pick. When picking that low in the first round, it's always difficult to project who is going to fall. So we look to previous picks for the traits they like, and Tristan Beck from Stanford fits the mold perfectly.
The lofty right-hander burst onto the scene for Stanford in 2016 when he was started on Opening Day as a freshman. He also then went on to win freshman All-American honors after with a 2.48 ERA and 76 strikeouts in 83.1 innings.
However, he suffered a stress fracture that meant he missed his entire sophomore season in 2017. This wasn't enough to stop him from being drafted by the New York Yankees in the 29th round.
But with his first-round potential, it's not hard to see why he went back for another season in California to improve his draft stock. And it's paid off in the early part of the season. So far in 2018, he has a 2.79 ERA and a 63 Ks in 77.1 innings.
He posses great command to go with a nice array of pitches. His fastball will sit at around 92mph and he pairs that with a devastating changeup which is by far his best off-speed pitch.
He has a very lanky frame and deceptive over-the-top delivery which may lead to an up-tick in velocity down the road. He also replicates well, meaning hitters struggle to pick up the off-speed stuff.
Although not a perfect comparison due to Beck having more movement on off-speed pitches, there are a lot of similarities to former National Doug Fister.
The tall and skinny build, over-the-top throwing motion and master of command should all translate the same way to the pro game. You can see some of his 2017 highlights below.
If the Nationals are hoping for Beck to fall, then their main competition is likely the Yankees. They pick 23rd overall, four spots ahead of the Nats, and having previously drafted him, they clearly like him to some degree.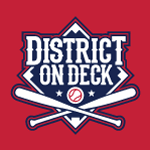 Want your voice heard? Join the District On Deck team!
Write for us!
The Washington Nationals will have plenty of choices in this particular draft, as there are plenty of talented pitchers who could fall. And if Tristan Beck is there, they'd be very wise to consider him.