Washington Nationals: Juan Soto is here to stay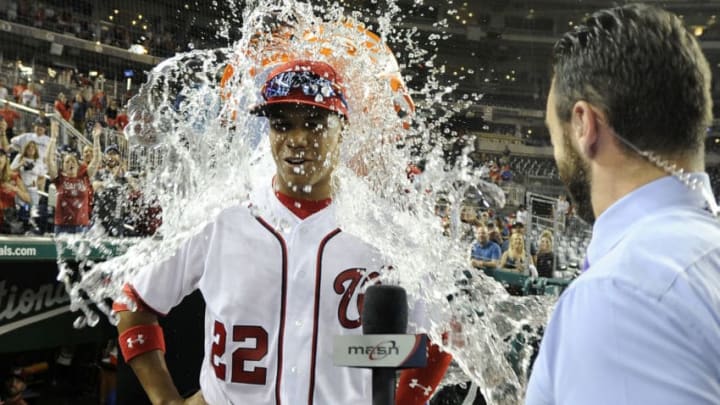 WASHINGTON, DC - MAY 21: Juan Soto #22 of the Washington Nationals is doused with water after a 10-2 victory against the San Diego Padres at Nationals Park on May 21, 2018 in Washington, DC. (Photo by Greg Fiume/Getty Images) /
Adam Eaton's injury may have been a blessing for the Washington Nationals, as it opened the door to the promotion of Juan Soto, who looks here to stay.
The Washington Nationals suffered a seemingly devastating blow when outfielder Adam Eaton was lost to injury. However, the subsequent outfield crisis resulted in the promotion of prized prospect, Juan Soto, which may end up being a blessing in disguise.
Since Soto's arrival with the team on May 20th, his performance continues to provide a strong case to remain a regular in Washington's line up. Juan Soto has an impressive slash line of .333/.415/.500 over his first 12 games.
Obviously, people may argue that this is a small sample size and eventually, based on scouting reports, the league will make adjustments to how they pitch to Soto. That is true, but there are some very encouraging signs in his plate approach and how he understands the game that indicate he will be able to make the necessary adjustments.
More from District on Deck
According to Brooks Baseball, Juan Soto has mixed an aggressive approach at the plate against fastballs with a patient approach against breaking pitches (10 % whiff/swing).
Many experts have acknowledged his mature approach in the batter's box and understanding of the strike zone.  As he explained after the May 22nd game against San Diego, he is confident in his approach and ability to make adjustments.
""Not much, because I know the strike zone, and the umpires are better here. So I take advantage of that.""
He has shown the ability to go the other way at a rate of 34.5 %, which has also helped him limit his strike out rate (17 %).  Many young players become too pull conscious, which causes them to have big swings particularly in two strike counts. But Soto's ability to put the ball in play is a nice compliment to a lineup filled with players prone to strikeout.
Also he is producing hard contact 48% of the time and his line drive rate is at 27.6%. This has resulted in his high average but has sacrificed some of his power.
However, Baseball Savant wrote that many scouts expect that his understanding and feel for hitting will help him eventually reach his raw power potential.  His first home run was an example of his ability to make hard contact to the opposite field.
In his limited time Soto has shown a baseball maturity beyond his age of 19 years. His ability to read  and understand pitcher patterns showcases his high baseball IQ.  On Tuesday, he showcased this in collecting his first MLB stolen base, against Orioles pitcher Dylan Bundy.
As Byron Kerr of MASN quoted Nats' manager Dave Martinez, following the game on Tuesday against the Baltimore Orioles:
""Today, he stole third base," Martinez said. "And we asked him: 'What made you go?' And he said: 'I was sitting there and I was timing him, timing him, timing him, and he did the same thing over and over again. And I said, OK, I can do this.' And he ran. What 19-year-old you know does that? Applies it and goes with it?""
Next: Thank the Braves for Matt Adams
As players begin to return from the disabled list, Soto continues to make a strong case to remain part of the 2018 Washington Nationals big league club. Struggles will happen, it is part of baseball. But he has a swing and approach that doesn't lend to prolonged slumps. He is a 19 year old student of the game and his baseball IQ gets better with every game.