Washington Nationals: Smallball will be the key for a 2019 turnaround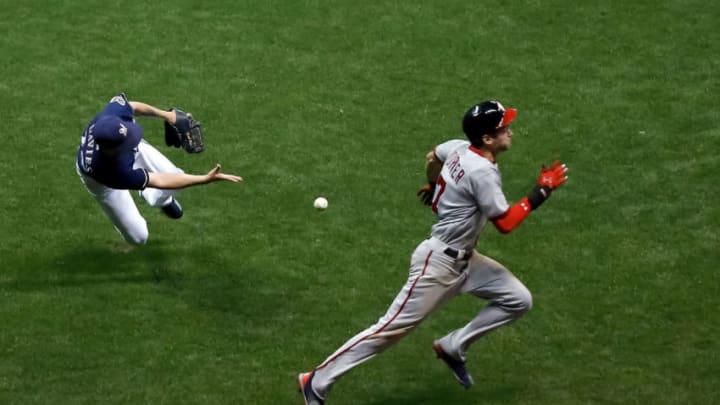 MILWAUKEE, WI - AUGUST 31: Zach Davies #27 of the Milwaukee Brewers tosses the ball to first base as Trea Turner #7 of the Washington Nationals reaches safely on a bunt during the fifth inning at Miller Park on August 31, 2017 in Milwaukee, Wisconsin. (Photo by Jon Durr/Getty Images) /
The Washington Nationals disappointed in 2018, missing the playoffs with an 82-80 record. Their fundamentals in tight games might be the key to improvement.
The Washington Nationals were a bad smallball team in 2018. Mark Zuckerman of MASNsports.com makes a convincing case that a failure to execute some of baseball's most fundamental tasks was instrumental in their underwhelming season.
Smallball pops up in baseball discourse every now and again, most often as a complimentary talking point reserved for teams that don't hit home runs. Regardless, all teams play smallball – moving runners over, going first to third, avoiding outs on the basepaths – but teams who struggle in these areas often beat themselves with unforced errors and sloppy play.
For example, Nationals' baserunners were picked off 22 times this year. That means they had a runner erased once every two weeks, which doesn't seem like a big deal, even if it was the most in the majors.
More from District on Deck
Conversely, Nats' pitchers picked off nine opposing runners. Granted, the thirteen outs the Nats' lost through this negative "pickoff disparity" don't seem a big problem, but that's the point, in that the little things matter.
It's well-documented at this point, the Nats struggled in one-run games with an 18-24 record and in extra innings with a record of 4-10. This was a marked drop-off from 2017 where they were 30-21 in one-run games and 7-4 in extra innings.
A team's record in close games can be written off to small samples sizes, but even if these records aren't predictive of future performance, they have evaluative value. Likewise, focus and execution in the moments that matter most are human variables that lend to inconsistent results. But in 2018 at least, the Nationals failed in these areas. They'll need to be much better in close games if they're going to compete in 2019.
Manager Davey Martinez plans to emphasize fundamentals this spring by rewarding those players who consistently execute the basics, which is a step in the right direction. Still, blaming their 2018 failures on smallball feels like catering to the most generic of baseball platitudes, and it certainly doesn't give the fans a plan for improvement, even if, for the players on the field, it most definitely is.
Hence, another facet of the offseason plan was put into motion by GM Mike Rizzo on Wednesday with the low-cost acquisition of former Miami Marlins closer Kyle Barraclough. Having a reliable stable of bullpen arms is crucial to navigating close games and extra-innings contests. The Barraclough acquisition proves that Rizzo's got his eye on improving that area of the team.
The Nats lacked those reliable arms this season. Matt Grace had a good year, and Justin Miller had his moments, but relievers are known to be volatile creatures. For proof of the year-to-year fickleness, look no further than former Nat Ryan Madson who had a 1.83 ERA and 1.99 FIP in 2017, then 5.47 ERA and 3.98 FIP in 2018.
Another critical element was the loss of late-inning stopper Sean Doolittle to a stress fracture in late July. Losing their most reliable arm in Doolittle for much of the second half put the entire bullpen off-balance, but injuries happen every year and one guy can't do it all. They'll need others to step up.
Bullpen improvement often comes internally, and the Nats have guys like Wander Suero and Koda Glover who could earn Martinez's trust in close games. Rizzo will continue to reach outside the organization for high-upside arms, but if Doolittle can be the foundation in a stable of late-inning arms, the Nationals will be better positioned to turn around their record in one-run games.
For the team to return to contention, they'll need to do more than just avoid being picked off. Predictions about the Washington Nationals are likely to reflect the outcome of the offseason's bigger decisions, but all the on-field talent in the world is worthless if the Nats beat themselves.