Washington Nationals: FanSided General Manager Simulation Begins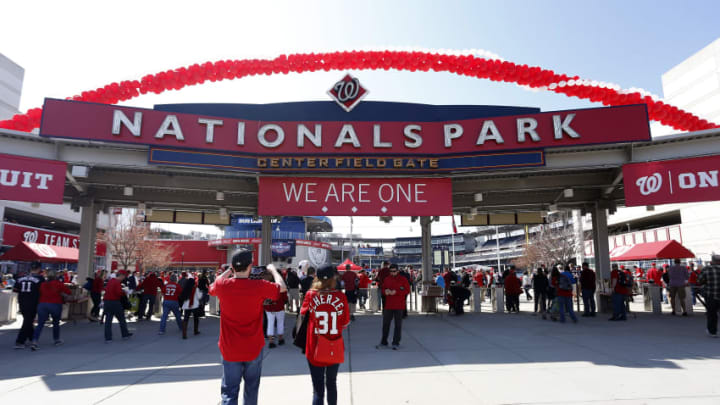 WASHINGTON, DC - APRIL 3: Fans walk through the Center Field Gate before the opening day game between the Miami Marlins and the Washington Nationals at Nationals Park on April 3, 2017 in Washington, DC. (Photo by Matt Hazlett/Getty Images) /
In a yearly activity, all of FanSided's MLB sites come together to take part in a big simulation of the MLB offseason, and 2018 will be no different.
One of the benefits of being part of a big FanSided community is that we have sites for every MLB team. So District on Deck will be taking control of the Washington Nationals in this year's big GM Simulation.
Each year, the MLB sites at FanSided all come together and take charge of their corresponding teams to simulate the MLB offseason. This includes a full free agency, with an independent "agent" and full trades, 40-man roster management etc.
Site Expert Blake Finney will be filling in for Nationals General Manager Mike Rizzo in this year's sim. You may remember an earlier article which had a similar concept and may give an insight into the plans this time around.
More from District on Deck
Throughout the whole process, we'll be publishing how the simulation goes through articles that may include Mock Trade or Mock Signing in the title. These will be purely for this activity, not actual trades, in case you are getting ready to get your hopes up on those articles.
Obviously, while this is all a fun activity, it can be used as a bit of a yard-marker in terms of cost for some of the possible trade targets that the Nationals. With each team's representative pretty familiar with how their front offices work, and the type of needs each team has, hopefully, the costs will be realistic.
In terms of what you can expect from GM Blake Finney during this exercise, here are some of the items on his wish list:
Bryce Harper – This will then have a potential knock-on effect for other moves
Starting Pitcher – Possibly two if the price is right
Catcher – J.T. Realmuto will likely be brought up at some point
Left-handed reliever – Finishing off the bullpen
Backup first baseman – Preferably a left-handed hitter
Second base – Not a high priority, but an upgrade would be nice if possible
Our sources already tell us that there are irons in the fire to bolster the rotation nice and early in the simulation. You will be the first to know when there's a move made by the simulation Nats.
Keep an eye out on District on Deck for the moves made by the "fake" Washington Nationals in the simulation.