Washington Nationals under consideration for 2020 London Series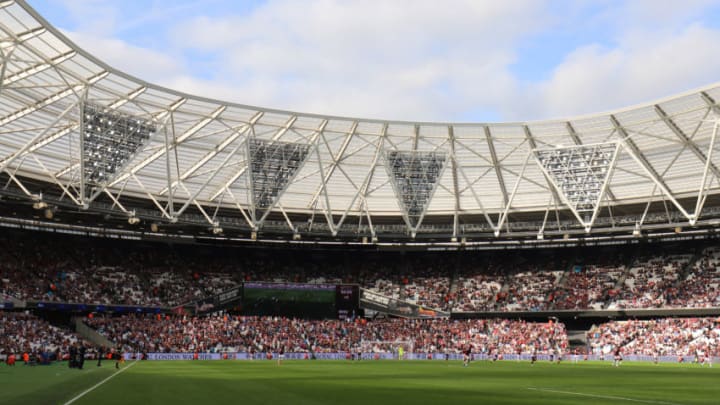 LONDON, ENGLAND - AUGUST 18: General view of The Olympic Stadium during the Premier League match between West Ham United and AFC Bournemouth at London Stadium on August 18, 2018 in London, United Kingdom. (Photo by Henry Browne/Getty Images) /
In some unexpected Washington Nationals news that emerged on Friday, there are reports that the Nats are being considered for MLB's 2020 London Series.
As the Washington Nationals gear up for the 2019 season with Spring Training around the corner, news emerged about the 2020 season. There were reports that the Nationals were under consideration to participate in the London Series that season.
According to The Associated Press, "Major League Baseball is considering one of two matchups for its 2020 series in London: New York Mets vs. Washington Nationals or Chicago Cubs vs. St. Louis Cardinals." They also mentioned that a decision was expected after Opening Day.
The 2020 series will be the second MLB London Series after the Boston Red Sox and New York Yankees square off in London this summer. The old AL East rivalry is the first big test for MLB across the pond as it sends two of its most storied franchises over to help grow the game.
More from District on Deck
That matchup and the two rumored to be under consideration are a signal of intent from MLB, with big rivalries and some of its oldest franchises. Evidently, they are keen to follow on from the success that the NFL has had overseas with four games scheduled next season in the highly anticipated international event.
Some will be surprised at the ever-growing baseball community over in the UK, about as diehard as they come staying until the early hours of the morning to watch their teams due to the time difference. There are blossoming British baseball blogs such as Bat Flips & Nerds and Extra Innings UK, there are also Twitter accounts dedicated to each franchise, including your very own Nationals at the @Nationals_UK handle.
You could also look to the author of this piece as an example of the influence that baseball has in the UK. Having followed the Nationals from England for roughly 10 years, there were many late nights watching games with a completely unhealthy sleep pattern, just to see the Nats.
The UK has waited so long to have live baseball on its doorstep, and if the Nationals are chosen, they will be greatly received by all involved, even the fans who deem themselves neutral. No doubt there will also be plenty of fans traveling over from the US to take part in a potentially historic series and soak in the atmosphere. It would make for an excellent occasion.
The Washington Nationals could be set to go international as soon as next season if their series with the Mets is chosen. It has the potential to be a historic event as the game hopes to continue growing overseas.