Washington Nationals: Time to Move on from Bryce Harper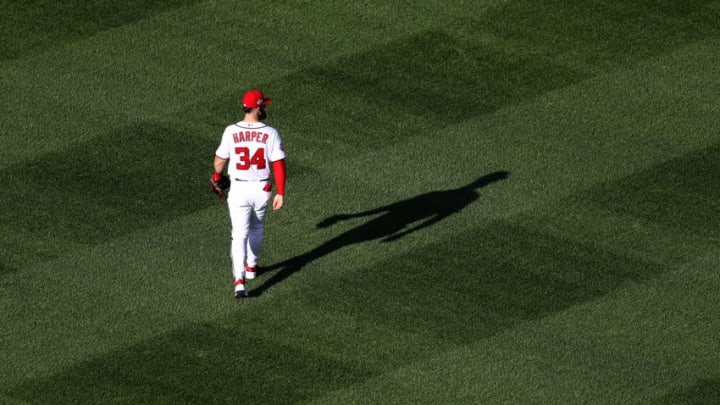 WASHINGTON, DC - SEPTEMBER 26: Bryce Harper #34 of the Washington Nationals takes the field before the start of the third inning against the Miami Marlins at Nationals Park on September 26, 2018 in Washington, DC. (Photo by Rob Carr/Getty Images) /
After Washington Nationals outfielder Bryce Harper signs with the Philadelphia Phillies, it will be time for the Nats to move on from their star player.
The Washington Nationals lost Bryce Harper to the Philadelphia Phillies.
It is a painful sentence to fathom.  But it is time to move on.
For the first time in six years, Harper will wear a different shade of red each when he takes the field on Opening Day.
It will be a difficult moment to comprehend.  But the team will survive.
More from District on Deck
As this offseason progressed, it became increasingly apparent that the Nationals would be contenders for not only the National League East, but the N.L. pennant, with or without No. 34.
Brian Dozier, Yan Gomes, Kurt Suzuki, and Matt Adams will all soften the loss of Harper.
Dozier received MVP votes in 2015, 2016 and 2017.  Gomes was an all-star in 2018 and has experience catching the Cleveland Indians rotation, which recorded the 4th best FIP last season.
Suzuki possesses essential knowledge of the entire Atlanta Braves rotation, and himself batted .276 with a .825 OPS in his two years in Atlanta.  Adams, in his limited time with the Nats last season, swatted 18 home runs and filled in brilliantly for Ryan Zimmerman at first base.
That the Nats are losing Harper stings, no doubt, but the team is prepared to replace him.
What doesn't change with Harper's departure, however, is the backbone of the Nationals: The starting pitching.
Ever since the Nationals began churning out playoff-caliber seasons dating back to 2012, the core of the roster is built around the starting rotation.
Jordan Zimmermann, Gio Gonzalez, and Stephen Strasburg were there from the start.  Through the years, Max Scherzer and Tanner Roark entered the fold, delivering tremendous performances every fifth day.
This offseason, general manager Mike Rizzo doubled down on his commitment to pitching by signing Patrick Corbin and Anibal Sanchez.
During his tenure in D.C., Harper has meant so much to the fans and the city.  He helped bring a successful baseball team back to the people who had lost the sport itself for decades.
With that said, however, people make choices.  Harper decided the optimal move at this particular junction in his career was to move on.  And that's his prerogative.
Fans of his former team, most of which are devastated that he would move on, can take a few days to understand the move.
But, just like Harper will, the team will move on, too.