Washington Nationals: Three More Draft Prospects To Keep An Eye On Come Draft Night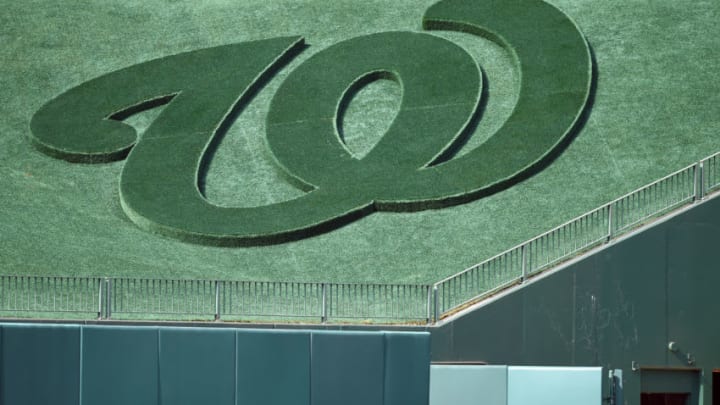 The Washington Nationals logo in centerfield grass before a baseball game against the Los Angeles Dodgers at Nationals Park on July 26, 2019 in Washington, DC. (Photo by Mitchell Layton/Getty Images) *** Local Caption *** /
Keep an eye on these draft prospects!
Sunday night will feature one of the most important nights of the baseball season. The first round of the MLB draft. After a grueling high school/college season, many of these draft prospects' dreams are about to come true.
For the Nationals, they have the 11th pick in the first round, their highest selection since they took Anthony Rendon number six overall in 2011. With a barren farm system, Mike Rizzo needs to work his magic once again. Last month we took a look at three prospects the Nationals architect should target. Since then, many players have seen their stocks drastically change. Here are three more players Rizzo and company should seriously consider.
Will Bednar, RHP Mississippi State
Will Bednar has rapidly started to rise up draft boards thanks to his impressive outing during Game Three of the College World Series. In the biggest game of his career, the Mississippi State star outdueled Vanderbilt's co-ace Kumar Rocker, throwing six shutout innings, while not allowing a hit. He also struck out four and walked three.
Bednar's dominance led way to Mississippi State taking home the title. The Mississippi State ace proved he has ice in his veins and can compete when the pressure's the highest. On the season, Bednar went 8-1, with a 3.34 ERA, and 135 strikeouts in 86.1 innings. Bednar has a four-pitch mix, with his heater and slider being his best offerings.
MLB Pipeline broke down his repertoire stating,
""He sits at 93-95 mph and tops out at 97 with his fastball, which can exhibit both heavy life and riding action. His mid-80s slider has become a consistent plus pitch this spring, surpassing his solid upper-70s curveball with depth.""Bednar also has the makings of at least an average changeup and is pounding the strike zone more than ever, two more ingredients that add to his mid-rotation starter's profile.""
With Cade Cavalli, Jackson Rutledge, and Cole Henry already in the system, Bednar wouldn't be rushed to the majors early. He would have ample time to develop and continue improving his secondary pitches.
Gunnar Hoglund, RHP Ole Miss
Entering the 2021 college season, Gunnar Hoglund was a projected top 10 pick. Then the Ole Miss ace underwent Tommy John Surgery. Enter Mike Rizzo and the Nats. Rizzo has never shied away from drafting a pitcher with an injury history. Lucas Giolito, Erick Fedde, and Jackson Rutledge all come to mind. In fact, while he wasn't a pitcher, an injury concern is what led to Anthony Rendon falling to the Nats in 2011.
But if any team knows how to handle a pitcher who underwent Tommy John Surgery, it's the Nats. Most notably, they shut down Stephen Strasburg in 2012 a year after he underwent TJ surgery because he reached his innings limit. The team didn't budge on their decision despite the team reaching the playoffs.
Hoglund has impressive command and has a great stature for a pitcher. He is 6'4 and weighs 220 pounds. He has a four-pitch mix, led by his fastball. MLB Pipeline broke down his repertoire stating,
""Hoglund's stuff plateaued in his first two college seasons, as he showed the same 89-93 mph riding fastball and average breaking ball that he had in high school. His stuff ticked up last fall, however, and he now works at 92-95 for five innings at a time and displays a tighter, harder slider at 84-86. His low-80s changeup serves as a solid third pitch and he can give batters a different look by dusting off a curveball he relied on more as a prepster.""
If Hoglund can successfully return to form, then he might be the steal of the draft.
Sam Bachman, RHP Miami (Ohio)
Sam Bachman has started to be mocked to the Nats more and more. Ranked as the fifth-best right-handed pitcher in the draft by Baseball America, he is coming off an excellent season at the University of Miami, Ohio. In 59.2 innings, he went 4-4, with a 1.81 ERA, and 93 strikeouts, while only issuing 17 walks.
Bachman has one of the most impressive fastballs in the draft, a pitch that tops out at 101 mph and was given a 70 grade by scouts. MLB Pipeline broke down his repertoire stating,
""After working at 91-94 mph for much of his first two college seasons, Bachman now sits at 94-97 and hits 101 with plenty of armside run and sink. His slider also has gained more power, operating in the mid-80s with nastier bite and destroys left-handers and right-handers alike. His deceptive, heavy changeup in the mid-80s gives him at least a solid third offering.""
While Bachman has some eye-popping stuff, some believe he projects to be more of a reliever due to his height and arm action. He revamped his arm action during his college career in order to get an uptick in velocity. But Bachman would still be given a chance to prove he can be a starter.