With Injuries Behind Him, Cole Henry Dominated Arizona Fall League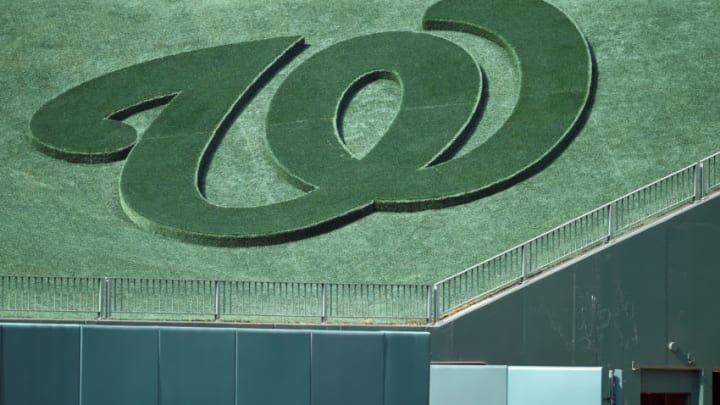 The Washington Nationals logo in centerfield grass before a baseball game against the Los Angeles Dodgers at Nationals Park on July 26, 2019 in Washington, DC. (Photo by Mitchell Layton/Getty Images) *** Local Caption *** /
Injuries are unfortunately a vital part of baseball and Nationals pitching prospect Cole Henry is no stranger to them. During his freshmen year at LSU, he battled a stress reaction in his upper arm and an elbow issue. Unfortunately, this year Henry was once again bitten by the injury bug.
He began this season at A+ Wilmington and made five starts before he was sidelined due to an elbow issue. For the next two and a half months, Henry focused on rehabbing his elbow and strengthening his body.
Fast forward to Aug. 19 and Henry was sent to the Florida Complex League (formerly known as the Gulf Complex League) for a rehab start. When he walked onto the mound, the righty was hit with a wave of emotions.
"I was really, really excited," Henry said. "It was a big sigh of relief because I finally got to do what I love, instead of having to sit in the training room all day or shag BP in the (FCL). Being able to get back on the mound and doing what I love to do which is pitch and win."
Henry was roughed up in his first outing back — allowing five runs (including three earned) on two hits in a single inning. He also struck out four thanks to a runner advancing on a passed ball while walking one. Henry credits some of his initial struggles to being away from the mound for so long.
"The first time out there in the (FCL), there was lots of adrenaline I hadn't had in months," Henry said. "I hadn't faced batters in a live game in over two months. Trying to come back real quick like that and be as good as I can be is pretty tough. It was good to get that start under my belt and throw to live batters."
With his first start back out of the way, Henry was able to settle down and return to what had previously worked. He dominated across his last five starts in the FCL and at High-A, allowing only one earned run in 22 innings.
"When I went back to Wilmington, I felt like I was able to get back into the groove of where I was," Henry said. "It wasn't anywhere out of my wheelhouse and it felt good to be back and do my thing."
Drafted in the second round of the 2020 draft, Henry showcased why Mike Rizzo and company value him as part of the future of the Nationals rotation, alongside Cade Cavalli and Jackson Rutledge. He finished his first season at Wilmington 3-3, with a 1.88 ERA, and 63 strikeouts in 43 innings. Opponents hit a measly .158 against him and were only able to muster three homers.
Knowing he was finally healthy allowed Henry to ease into a routine of throwing every fifth day.  The front office was pleased with Henry's progress and decided they wanted to see his season continue. Before the season ended, Henry was told by his manager Tommy Shields that he was being added to the Nationals' Arizona Fall League roster.
The Arizona Fall League is an opportunity for the top prospects for each MLB team to compete and continue their development. Each team chooses seven prospects who are then put onto one of six teams. The Surprise Saguaros was made up of prospects from Washington, Cincinnati, Baltimore, Texas, Kansas City, and the New York Yankees. Henry joined Todd Peterson, Jackson Rutledge, Jackson Cluff, Donovan Casey, Drew Millas, and Israel Pineda representing the Nationals.
In his first outing, Henry struck out six across 2 2/3 shutout innings. From there, Henry continued to rack up strikeouts, finishing the season second in the league in Ks with 30. In 19 innings, Henry went 1-0, with a 3.32 ERA, and 30 strikeouts, while walking nine. He was consequently named to the Fall Stars Game.
A major part of Henry's success this fall came from not overthinking or trying to throw too hard. Instead, he stuck to what worked for him and was able to locate his pitches– be it his two-seamers inside, four-seamers up, or mixing up his off-speed pitches when he was ready to put people away.
"I tried to set up my pitches and let them work for me," Henry said. "Once I did that, I was able to settle in and find a consistent delivery and release. It made it easy to repeat and that was the biggest difference."
Against some of the top prospects in baseball, Henry relished the challenge and looked forward to it. A key matchup that stood out was when he faced Boston's top-ranked prospect, Triston Casas. Ranked the 18th prospect in baseball by MLB Pipeline, Casas played over the summer for Team USA in the 2020 Tokyo Olympics, winning a Silver Medal. He slashed .217/.308/.652, with three homers, and eight RBIs.
"I had to face Casas a few times with runners in scoring position," Henry said. "He's a really good hitter and you have to make sure to make your pitches and try not to leave any cookies because he will punish it."
Their matchups turned into cat-and-mouse games, with Henry trying to attack Casas' weaknesses. When Casas has two strikes, he is known for spreading out at the plate. In response, Henry would sometimes try to sneak a heater by him.
"You know the damage he can do and you have to be pretty pristine if you want to get him out," Henry said.
Another tough matchup that stood out was against the Marlins fifth-ranked prospect, J.J. Bleday. Drafted fourth overall in 2019, the 24-year-old is known for his power. He mashed 12 homers, with 54 RBIs this past year at AA. Bleday ended up getting the best of Henry, taking him deep.
"Guys like that you know who can do damage with the bat and if you make a mistake they will take care of it," Henry said. "I think it's fun. I'd rather hitters like that than those you know you can get out."
In Henry's last outing of the year, he found himself once again facing off against Casas. During the bottom of the sixth inning, the slugger made a bad swing on a changeup that he was able to squeeze between second and short for a hit. Two innings later, Casas came up for their last matchup of the season.
"During my last outing, I had runners on first and second with two outs," Henry said. "Big spot. My last inning. I knew I had kinda beat him the previous at-bat and I wanted to stick to that plan."
Henry started off the at-bat by throwing a changeup that Casas watched for a strike. Casas then fouled off the next two pitches and quickly found himself in an 0-2 hole. With two strikes, Casas started to make adjustments at the plate and found himself taking the next two pitches for balls.
"I go right back to the fastball, kinda up and out, a place where I hadn't really thrown it to him," Henry said. "I think it might have surprised him a bit, 2-2, cause I had a pitch to work with. If I wanted I could have thrown another off-speed. Instead, I decided to try and stick another fastball and he was just late. He missed and it struck him out."
This fall highlighted Henry's potential when he's able to stay on the mound. Two anonymous National League scouts at the Arizona Fall League told Jesse Doughtery of The Washington Post that Henry is behind only Cade Cavalli in "Pure stuff" among the Nationals pitching prospects.
Next up for Henry is continuing to strengthen his body so he can handle the rigors of a full season. In the meantime, he's ready for the next step of his career and he isn't worried about what he can't control.
"I just wanna win games and be myself," Henry said. "Just let my pitching talk for itself and not try to do too much… If you aren't winning games and pitching deep into games, then it's gonna be tough. Just making sure I stay on top of my game and do what I can do. Control what I can control. Let everything else play out."