Washington Nationals: Trea Turner among most dynamic players in DC history
Though he is just 24 years old, Washington Nationals shortstop Trea Turner is already among the most dynamic players in team history.
The Washington Nationals are a team full of stars. With big names such as Bryce Harper and Max Scherzer on the team, other great players are bound to go unnoticed. This is exactly the case for Trea Turner.
Turner, just 24 years of age, has quickly escalated himself to one of the most dynamic players in team history.
When Alfonso Soriano made a quick, one-season stop in DC in 2006, he had one of the best individual seasons of all-time. He was absolutely electric, becoming just the fourth player in baseball history to record 40 homers and 40 stolen bases in a single season.
The early Nationals teams struggled immensely, with Ryan Zimmerman being one of the few bright spots. Soriano provided a spark, and gave Nats fans something else to root for. His 41 stolen bases were incredible, and even set the team stolen base record.
On Tuesday night in Atlanta, Turner broke Soriano's stolen base record. Yes, Turner broke the record, which is extremely exciting. However, if you take a closer look, it becomes even more impressive.
First of all, Soriano stole 41 bases, but was also caught 17 times. His 17 times caught stealing ranked third in the MLB, while his 41 stolen bases only ranked ninth. Similar to a home run hitter who strikes out a lot, he had the potential to make a big impact, but also failed often.
Turner, on the other hand, has stolen 42 bases, while only being caught six times. That's good for an 88% stolen base percentage. When he tries to swipe a bag, he is successful eight or nine times out of ten.
Another very impressive aspect of Turner's season has been how big of an impact he has been able to make in limited opportunities. Early this season, he was sidelined with a right hamstring strain. He was only forced to miss a few weeks with this injury, but later fractured his wrist as well.
Between the two injuries, Turner has only played in 89 of the first 151 games, or 59%. Somehow, he has managed to break the team single-season stolen base record while only playing in 59% of the games. It took Soriano 159 games to do it in 2006, 70 games more than Turner has currently played in.
Despite missing 41% of games this season, Turner is still third in the MLB in stolen bases, behind only Billy Hamilton and Dee Gordon, which is absolutely astounding. What separates Turner from a guy like Hamilton, however is Turner's ability to get on base.
Hamilton has stolen 58 bases this season, but he is only batting .248. Turner, on the other hand, is batting .284. Between Turner's ability to get on base and his blazing speed, he has the potential to become one of the best base-stealers of all-time.
Incredibly enough, Turner's offensive production doesn't stop at his ability to get on base and his blazing speed; he also has sneaky pop. In limited at-bats this season, he has managed to hit ten homers. His ten homers are good for eighth on the team, and he has more than Jayson Werth and Matt Wieters.
Finally, Turner is an excellent defender at shortstop and even played above-average defense in the outfield last season. His speed also applies in the field, because he is able to get to balls that other fielders can't dream of getting close to.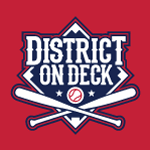 Want your voice heard? Join the District On Deck team!
Write for us!
Trea Turner is one of the best all-around players in the league and is a special player, even at just 24 years old. He is easily one of the most dynamic players in team history, and it should not come as a surprise that he is setting team records despite missing over 40% of the season. If he is able to remain healthy, he is in for a long and electrifying career.