Washington Nationals: Max Scherzer saves the day in extra innings
It took 14 innings for the Washington Nationals to get the 5-3 win on Saturday. But in the end, they have Max Scherzer to thank for a huge win in Atlanta.
The Washington Nationals needed extra innings on Saturday to get past the Atlanta Braves. And it was Max Scherzer, of all people, who came up huge with the bat.
After a lengthy stalemate between the National League East's two best teams, Davey Martinez called upon Scherzer to pinch-hit. He responded with a base hit, and then went on to score from first base on a Wilmer Difo double, giving the Nats a lead they wouldn't relinquish.
With all of the bench bats used up, except backup catcher Pedro Severino, Scherzer stepped up to the plate, literally. The Nationals' ace is now hitting an exceptional .310 on the season, with four RBI and three runs. You can see his post-game interview with MASN below, where he's overflowing with excitement
Max Scherzer is now the best hitting pitcher in baseball, with more than six ABs, so far this season as he holds a .310 batting average. And although hitting doesn't play a huge factor, he continues to enhance his MVP case in 2018.
He currently co-leads the National League in WAR, funnily enough with fellow NL East pitcher Aaron Nola, at 3.4. Right now "Mad Max" is at the forefront of the NL MVP discussion, and will stay there throughout 2018.
Taylor's bat stays white hot
Scoring the Nationals' first run since the third inning of the series, Michael Taylor's homer in the second inning set the tone for the game. Juan Soto managed to slap a curveball up the middle, then Taylor sent a rocket to center-field to put the Nats 2-0 up.
Seemingly stuck in a huge slump until mid-May, Taylor has finally broken out lately. In his last 12 games, he's hitting over .300 with two homers, a pair of triples and two steals.
Taylor doesn't need to keep up this kind of pace to stay in the lineup, as his calling card is his gold glove defense. But if he can finish the season at around .250 with 30 steals and 20 homers offensively then that would be huge.
Adam Eaton playing CF with Harrisburg
One interesting takeaway outside of the state of Georgia, is that rehabbing outfielder Adam Eaton played five innings in center-field on Friday. Although he played left-field on Saturday, it matches their intent to play him in both positions.
It's a clear sign that the Nationals are willing to give Soto a chance to stay at the big league level. He's done nothing but impress since the promotion, including his 3 for 5 performance on Saturday. The Nats will need to start being creative to keep getting him ABs in the outfield when everyone is haelthy.
If Eaton can play average defense in CF, then the Nationals could boast one of the best offensive outfield groups in baseball with Soto, Eaton, Taylor and, obviously, Bryce Harper. We'll have to see how the roster crunch plays out over the next week or so before we get a clearer picture.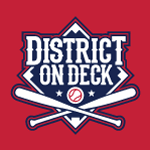 Want your voice heard? Join the District On Deck team!
Write for us!
The Washington Nationals will wrap up the series with the Atlanta Braves on Sunday. Jeremy Hellickson will look to get back on track after a couple of sub-par outings against veteran Anibal Sanchez.